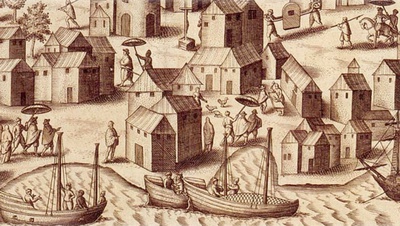 In 1557, after years of on-again off-again relations between the Portuguese traders and the Chinese officials, the Ming court finally gave consent for a permanent and official Portuguese trading base at Macau. Macau remained under Chinese sovereignty, and the Portuguese administered the territory and paid what they considered rent but which the Chinese regarded as tribute.
For over 1000 years, China had been the eastern end of the Silk Road, and European consumers had come to love Chinese silks, porcelain and tea. Starting in the 16th century and with the development of new navigational technology and sailing ships, European nations were now competing for access to Chinese ports and to control the East-West trade in luxury products.
From their commercial centres in Goa, Malacca and now Macau, the Portuguese engaged not only in intercontinental trade but also in regional trade, including the transport of opium from India to China.

Source: Schriff, P. Amer j of Pharm Educ 66 (2002) 186-194.
| | |
| --- | --- |
| Drugs: | Opium (morphine, heroin, opioids) |
| Regions: | Asia, China, India, Portugal |
| Topics: | Cultivation, production and trade |