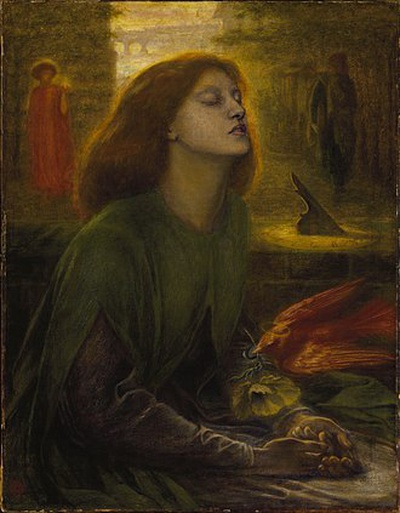 On the evening of February 10, 1862, Elizabeth (Lizzie) Eleanor Siddal came home with her husband after a dinner with some friends. Earlier that evening she had appeared drowsy but refused to be taken home. Her husband left to teach a class while she prepared for bed. When he came home a few hours later, he found her comatose from an overdose of laudanum. He called a doctor but it was unfortunately too late. She died early the next morning.
Lizzie, born to a working-class family, is best known as a model to a circle of artists in the mid-19th century known as the Pre-Raphaelites. She was painted and drawn extensively by artists of the Pre-Raphaelite Brotherhood, including Walter Deverell, William Holman Hunt, John Everett Millais and Dante Gabriel Rossetti who became her teacher, lover and (eventually) husband. But she is also a poet and artist in her own right and was granted a quarterly allowance of 150 pounds by John Ruskin, famous art critic and patron of the Victorian era. Known as Rossetti's pupil and Ruskin's protégé, she was the only woman to be included in a show at the Pre-Raphaelite salon in 1857.
Lizzie suffered from chronic health issues likely made worse by stress related to her relationship with Rossetti and grief at the still birth of their child. She became increasingly dependent on laudanum, a tincture of opium commonly used as a painkiller that was available at most apothecary shops at the time. She was 32 years old when she died.

Source: Siddall, L.B. (2002). The Sad, Short Life of Elizabeth Siddall: Pre-Raphaelite Model and Artist.
| | |
| --- | --- |
| Drugs: | Opium (morphine, heroin, opioids) |
| Regions: | UK (England, Scotland, Wales, Northern Ireland) |
| Topics: | Health and social problems, Medicinal use of drugs |